Hi Florist Friend,
As a florist, is there any other season in the year that is more magnificent than Spring? The blooming flowers and greenery that once again pepper the landscape are surely a feast for the eyes! It's truly a beautiful transformation. Take some time to smell the newly budding flowers and read all The Blooming Details. Happy Spring!
The Great Lakes Floral & Event Expo
We had just one regret from the Great Lakes Floral and Event Expo. Can you guess what it is? One of us did not get to don that luscious floral and feather gown, of course!! It was an amazing expo, with even more amazing florists and event designers. For those of you that stopped by our Details Flowers booth, or participated in the Wild Weddings seminar, thank you! Definitely check out Michigan Floral Association's Facebook page for some astonishing photos showcasing the expo. Here's a few snapshots of the weekend! Oh, we can't forget to mention we won Best In Show for our Trade Show Exhibit! #GOTEAMDETAILS! We can't end without a special shout-out to Heather Grit, owner of Glamour & Grit in Grand Rapids, MI for helping us out all weekend. Thank you!
Live Like A Flower...What Could Be Better?
Life lessons can be presented to us in many different ways, even flowers! Have you looked to any beautiful blooms for pockets of wisdom lately?
The Society of American Florists
created a wonderful resource to reconnect with Mother Earth and teach you how to
Live Like a Flower
. Want to keep these handy for when you need a floral philosophy boost? You can
click here
to download and print them out.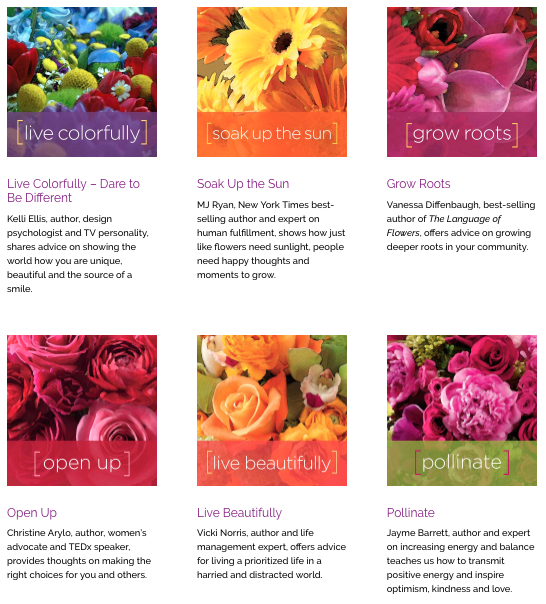 There's Always Something New
Floating florals, anyone? What about a full-on tree for the reception? The sky is truly the limit! While some brides come to you with their own fun ideas, as a floral artist, you have an incredible opportunity to let your creativity shine! Have you crafted anything wild and unique? Take a look at this
article from The Knot
showcasing some fantastically unexpected wedding florals. Next, run and add them all as a line item (hello up sell)! Who could say no to an inverted garden above the head table!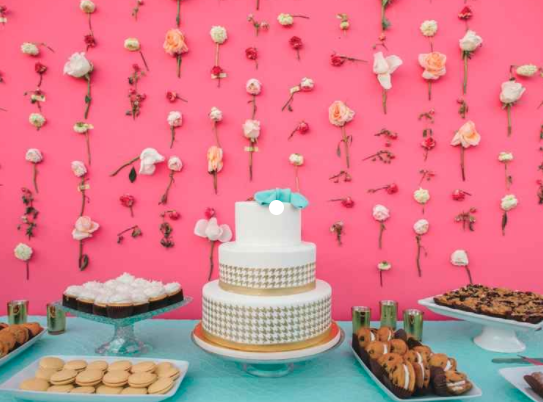 photo by

DELBARR MORADI PHOTOGRAPHY
Sneak Peak, Anyone?
Can you keep a secret? We weren't supposed to show you anything yet, but we're just so excited we can't wait any longer! Take a gander at some of our awesome new features that will be headed your way shortly! Remember, keep an eye on your email inbox for any information regarding our future features and updates!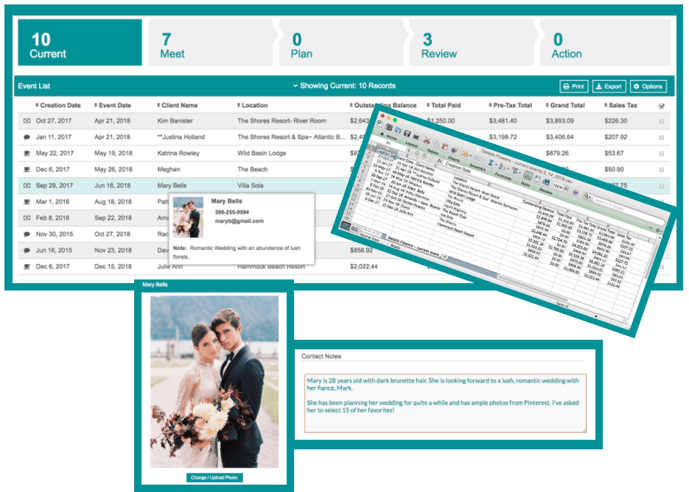 Client Photo? ✅Contact Notes? ✅ Client Pipeline? ✅ Event totals all on one page?! Export data?! ✅✅✅
Florists' Review 2018-2019 American Floral Trends Forecast
Planning for 2018 weddings & events is in full swing! Are your clients choosing more unique blooms and vibrant colors, or are you seeing something completely different? Take a peek at
Florists' Review 2018-2019 American Floral Trends Forecast
in their interactive style report to see how your clients match up. Easily share, save, and print ideas for easy future reference.
Click here to check out the American Floral Trends Forecast or click below to flip through the issue!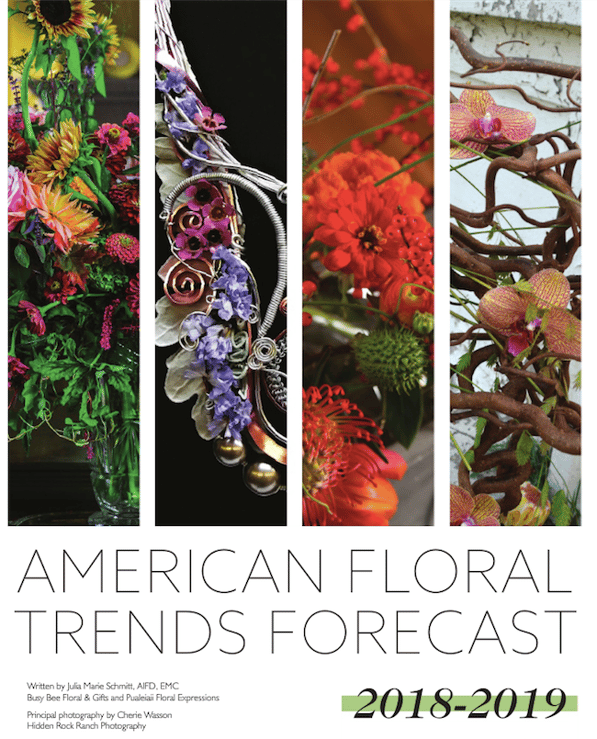 Change, Grow, Conquer!
Everyone has a story to tell. Maybe your shop fell perfectly into your lap, or maybe it took a journey half-way around the world for you to find out that you absolutely adore flowers. Just like each bloom, our stories are our own and unique to us. Your passion and creativity is what brings forth inspiration to old, and new, generations. Share your beautiful story with the world!
Fill out our quick Featured Florist form
to get started. Once your big, beautiful story is complete, it will be shared throughout our network!
#floristsupport #allinthedetails
How could we not feature this design of Janna Brown's. This makes us want to drop everything we're doing, run to the beach, and effortlessly glide around with this gorgeous bouquet. Would we look as graceful? Well, that's another story. Check out more of Janna's designs on her website,
Janna Brown Design
and
read her blog post.
Want us to feature your work on our Instagram page? Tag us on Instagram @detailsflowers!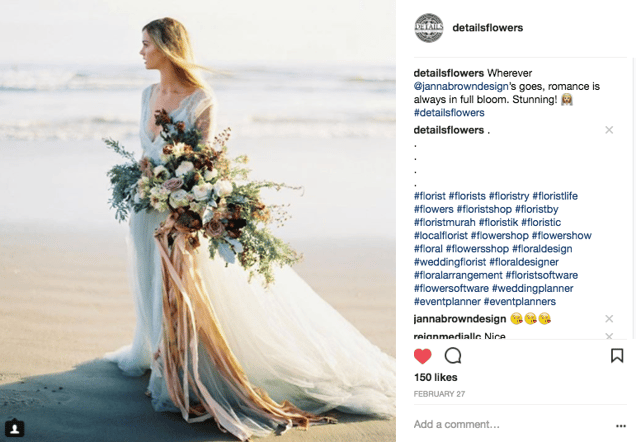 March Madness Contest
We're halfway through our March Madness Photo Contest! Last week, a photo was entered and quickly made it into the second spot. The more you share your entry, the most votes you will get! Like they say, it ain't over till it's over! You still have time to
enter our March Madness photo contest
for your chance to win a
FREE YEAR
of Details Flowers. Here are the top 3 florists as of today:

1st Place:
Flowers By Willows
2nd Place:
Those Girls
3rd Place:
Ella & Louie
Holy Wholesale, Batman!
One of Detail's best features is our wholesale portal! We have 9, that's right,
9
wholesale partners that are ready to send you a quote! Love what you see? Accept the quote, grab a chair, put your feet up, and relish in the fact that ordering was as easy as pie. Oh...might as well grab a slice of that, too! Not sure how sending your RFQ works?
Schedule some time with us
and we would be happy to give you a walk through of the "Costs" page!
Gain More Knowledge With Details University
Have you attended
Details University
yet? If you are just getting started, or have been with us since the beginning, Details University is here to help you! Learn every aspect of the software in just four (4) easy courses. The best part is you can schedule them in any order on your own time! Don't worry, this isn't a traditional class--each course is one-on-one with a member of the Details Flowers team.
Register now
and become a Details Flowers PRO!
Until Next Month,
--The Details Flowers Team
Christina Burton-Fox AIFD floral artist & instructor