Hi Florist Friend,
An incredible amount of amazing has been going on at the Details Flowers office this month of December. From an extraordinary
partnership with The Society of American Florists
, to the anticipated release of brand new features and updates (we can't wait!) our excitement can hardly be contained! Our December Newsletter is your tell-all for every "Blooming Detail!"
Want to have access to everything Details Flowers? Join our Facebook community to get all the latest news about features, updates, contests, and more!
The Society of American Florists Partners with Details Flowers Software
SAF members
, do we have great news for you! Details Flowers Software is proud to partnership with SAF! They have been an advocate for the growth of retail florists, flower growers, floral wholesalers and suppliers, importers, event-only florists, floral educators and students alike since 1884. Just like SAF, we want to help your business bloom and grow! For new customers that are current SAF customers, you can receive a Free 14-Day trial & special membership price for Details Flowers Software.
Read their latest article
to learn more & how you can sign up for
Details Flowers Software
!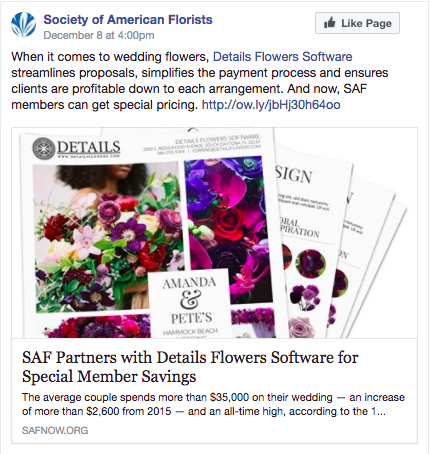 Details Flowers New Feature Announcement
Are you excited? Get excited! Details Flowers Software is about to unveil some highly anticipated new features that are sure to please! Have you been wishing for new proposal templates? What about an easier way to create your color story on the worksheet? Well, you are in luck! Not only will we have new proposal templates coming out, but a brand new Details Flowers Marketplace, and color-picker! Our Previewers are currently working with us to make sure everything is wrapped up nicely with a bow before we share these amazing new updates with you! Speaking of being wrapped up beautifully with a bow, keep an eye on your inbox for some Details Flowers Stocking Stuffers! Our new templates are going to be available with a very special offer for a limited time! So go ahead, get yourself something nice this year and stock up on some gorgeous, time-saving Details Flowers templates! Here is a sneak peek of what you can expect:
The Thrive Template The Grow Template
A Magical Dinner at a Florida Fern Farm
Have you ever dreamed about dining on an artisanal meal surrounded by hundreds of lush ferns? One of our very loved florists, Sally Kobylinski from In Bloom Florist was lucky enough to experience this incredible event first-hand! Read about her participation at this year's American Grown Field to Vase Dinner in Seville, Florida at FernTrust Incorporated.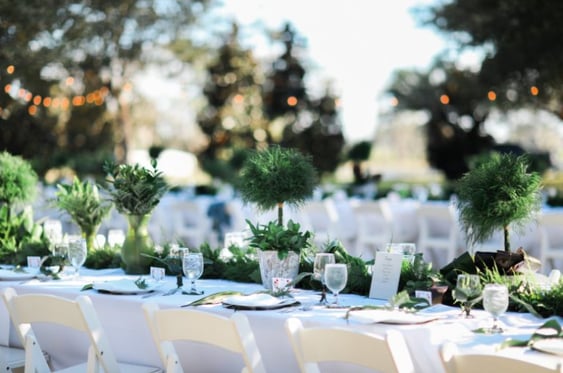 2018 Floral & Event Workshops
If you have been wanting to attend a floral workshop in 2018, but was not sure where to find the best...look no further! We've done the research for you to bring you the "what's what" in 2018. Visit our Education Page to learn more about some incredible 2018 floral and event workshops. Are you hosting your own floral or event workshop in 2018? Fill out our questionnaire and let us know if you would like Details Flowers to promote your workshop. We would love to partner with you!
Details Flowers Brand Ambassador Program
Calling all current customers!! Have you applied to be a Details Flowers Brand Ambassador yet? If you are interested in earning perks, like Details Dollars, to use toward your subscription let us know and we will send you the application! It is as simple as posting to Facebook or Instagram, or having your fabulous florist friends signing up for a free-trial with Details Flowers Software. If you're hosting a workshop, what could be better than having your own special code for sign up?
Details Flowers Blog
Your place to learn about new features, updates, and all things fun & floral! Current customers, want to be featured, just like
Cheryl Denham from Arizona Family Florist
? Let us know in our Facebook group!
Gain More Knowledge With Details University
Have you attended
Details University
yet? If you are just getting started, or have been with us since the beginning, Details University is here to help you! D.U. consists of four (4) free courses for our customers that cover specific areas of the software. The best part is you can schedule them in any order on your own time! Don't worry, this isn't a traditional class--each course is one-on-one with a member of the Details Flowers team.
Until Next Month,
--The Details Flowers Team
Christina Burton-Fox AIFD floral artist & instructor